Securing Your Next Generation Of Business…How and Why To Do Business With Millennials
Date:
Wednesday, October 16, 2019
Speaker:
Douglas A. Boneparth, CFP, MBA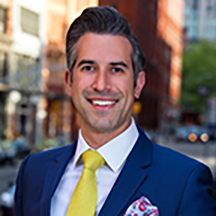 Please join the Greater New Jersey Estate Planning Council
When: Wednesday, October 16th, 2019
Where: Bacari Grill in Washington Township, NJ
Time: 8:00 am to 10:30 am
Please note this is a Breakfast Meeting Event. Doors will open at 8:00 AM for Check-In
Millennials aren't those darn "kids" anymore. The oldest members of the Millennial generation are approaching 40 and entering their peak earning years. Despite popular belief, there's money there, and a lot of it, and if any business wants to stay in business over the next decade, understanding Millennials and their needs is essential…actually, critical. This is especially true of legal, accounting/tax, financial and wealth management professionals – especially those who are generally older and struggle to relate to younger generations. It is also true of younger professionals who haven't yet mastered the how and why of doing business with Millennials. There are some very critical components when it comes to Millennials, their money and personal finance, their wants, needs, and who they want to do business with and how they conduct their business.
We have invited one of the country's most influential financial advisors, Douglas A. Boneparth, CFP®, president of Bone Fide Wealth, LLC. Douglas, yes, a Millennial, has found great success and has built an entire business, upon working with Millennials. However, that success is not simply because Douglas is working with his peers. He has become one of the country's leading experts on working with Millennials – and in this don't miss the presentation, Douglas will provide practical lessons and strategies that members can take with them and implement in their practices today! Everything from social media and online presence, to hiring young talent, and being your authentic self. Douglas will also take us inside the mind of the Millennial, how they want to do business, how they want to communicate, how they make decisions, and who will they look to for professional guidance and advice. Douglas will help you make your business a "next gen" business.
This is a don't miss event. Bring your associates, bring the new, younger members of your practice. This will be a presentation that can transform your practice.
Applications are pending for 2.0 continuing education credits for CFP, NJ CLE, NJ INS, and NJ CPE. If you wish to receive CE credits you must provide the necessary license information and you must attend the full course. You must sign in when you arrive and sign out at the end of the meeting!
Related Document(s):