A Capital Markets and Economic Outlook For 2019 and Beyond
Date:
Wednesday, September 12, 2018
Location:
Seasons, 644 Pascack Rd, Township of Washington, NJ 07676
Speaker:
Matthew Palazzolo, Sr. Portfolio Manager, Alliance Bernstein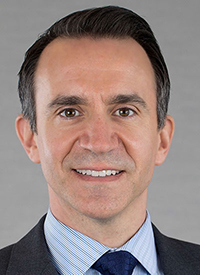 Please join the Greater New Jersey Estate Planning Council
on Wednesday, September 12, 2018, at Seasons in Washington Township, NJ
This is a Luncheon Meeting Event - Doors will open at 11:30 AM for Check-In
Please Use the Register Now Button at the Bottom of the Page to RSVP
We are very excited to start our council year with none other than Mr. Matthew Palazzolo, from Bernstein (Alliance Bernstein). This annual event has turned into one of our most popular, and also one of the best attended, so please register early. What better way to start out our GNJEPC year than to get an outlook and overview of US and global markets, from one of the best in the business. Matthew Palazzolo is one of the most respected Senior Portfolio Managers in the industry. More importantly, Matt is one of Bernstein's National Managing Directors, and in addition to his role as Senior Portfolio Manager, Matt is also responsible for Bernstein's market and investment-related communication. So, he knows how to explain things and explain them well! Matt is also a member of Bernstein's Private Client Investment Policy Group, which provides asset allocation, investment and risk-management advice for Bernstein's high-net-worth clients, endowments and foundations. The Bernstein Private Client Investment Policy Group, directs investment policy for the private clients of Bernstein. In short, Matt is a key person at Bernstein and helps develop, has access to, and communicates all of their data, research, economic and market advice.
Matt is going to be doing a Capital Markets and Economic Outlook for 2019 and beyond...and this is going to be a Don't Miss event. You will have the opportunity to hear Matt and Bernstein's ideas, concerns, and thoughts for capital markets and the economy. Matt will give us a great insight and strategic look forward on our US economy, and global economies as well. He brings a tremendous amount of experience, insight, and expertise to his presentations, and we are very excited and looking forward to having him for our event.
Don't miss this exciting event. You will certainly gain a great deal of knowledge and education.
Applications are pending for 2.0 continuing education credits for CFP, NJ CLE, NJ INS and NJ CPE. If you wish to receive CE credits you must provide the necessary license information and you must attend the full course. You must sign in when you arrive and sign out at the end of the meeting!
Related Document(s):