What Am I Thinking? Planning Topics That Are On My Mind
Date:
Wednesday, May 10, 2023
Location:
Zoom (online webinar)
Speaker:
Austin Bramwell, Esq., Milbank LLP, Co-Practice Group Leader, Trusts, Estates and Exempt Organizations Group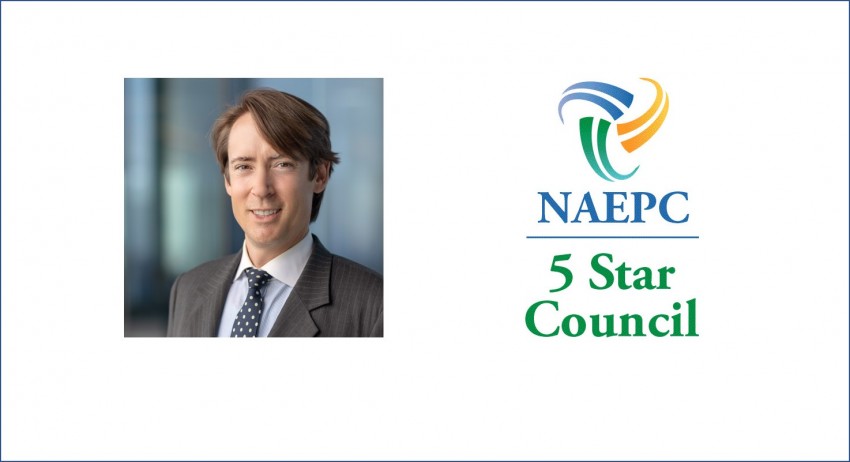 ***NOTE: THIS EVENT WILL BE ONLINE/VIRTUAL ONLY.***
(Times shown are Eastern)
What Am I Thinking? Planning Topics That Are On My Mind
When: Wednesday, May 10, 2023
Where: Online (Zoom webinar)
Time: 12:00 pm - 1:30 pm
Registtation information below. PLEASE NOTE: there are 2 registrations to complete to attend this meeting. See details at bottom of this document.
As we are heading into the summer and getting ready for our last two events of the 2022-2023 GNJEPC year, we are very excited to present a very special and very unique event for our virtual May meeting. Today, as we look at the landscape of estate and income tax planning, there is a great deal going on, as well as a great deal of uncertainty. We have the highest Federal exemption amounts ever, the potential "sunset" of those exemptions, an upcoming Presidential election in 2024, potential attacks on various estate and income tax planning techniques, and more. Who knows what will happen between now and then. With all of this, and much more, how do we go about planning for our clients? What do you advise your clients to do? What are you thinking? Make gifts, use the current exemptions, or wait? What about possible "claw-backs" and how that could impact our client's planning. Do note sales, preserve some or all of the exemption, and focus on using the step up in basis at death? The questions, answers, and discussion is never-ending.
The Greater New Jersey Estate Planning Council is very excited to have none other than Austin Bramwell, Esq., who will be giving us a very unique presentation, "What Am I Thinking? Planning Topics That Are On My Mind."
During this very unique and exciting event, Mr. Bramwell is going to be "talking" with us about what he's currently thinking and what he thinks the future holds. More importantly, he will be sharing with us what planning topics are on his mind today and moving forward. Mr. Bramwell is going let us know what he's doing today and how he is planning for his clients during these current and uncertain times. In addition, he will be sharing some of his best ideas with us! Having one of the nation's leading experts for this type of presentation is is going make this a "Don't Miss" event!
Mr. Bramwell is a nationally known expert in tax and estate planning. He is a partner in the New York office of Milbank LLP and co-Practice Group Leader of the firm's Trusts, Estates and Exempt Organizations Group. Austin's primary focus is in advising entrepreneurs, business owners, private equity and hedge fund principals, technology founders and executives, and other high net worth individuals and families in all aspects of their domestic and international tax and estate planning. His practice encompasses the formation, structuring, and operation of family offices, the succession of closely-owned businesses, and the structuring and implementation of nonprofit ventures. Mr. Bramwell also advises a number of leading tax-exempt organizations, including private foundations and public charities, on tax, compliance, best practices, and organization, as well as strategic matters, such as the design of charitable programs and the acquisition and de-accessioning of artwork. Mr. Bramwell represents corporate and individual fiduciaries in trust and estate administration matters, including in litigations. In addition, he represents taxpayers in contested proceedings with the Internal Revenue Service and other taxing authorities.
Many of you may know Mr. Bramwell, or at least have heard his name, as he is the author of numerous articles in the tax and estate planning area and a frequent lecturer/speaker on estate planning topics in national forums and venues, including for the American Bar Association, the American Law Institute, the Notre Dame Tax and Estate and Planning Institute, the University of Miami Heckerling Institute, the Duke University Estate Planning Conference, and the American College of Trusts and Estates Counsel (ACTEC).
Mr. Bramwell is also frequently quoted in Tax Notes Today, the leading publication for tax professionals. In 2017 and 2018, he served in the U.S. Treasury Department's Office of Tax Policy, where he helped craft the landmark Tax Cuts and Jobs Act of 2017 and worked on important tax regulatory projects within the Treasury Department. Mr. Bramwell is an Adjunct Professor of Law at New York University School of Law, where he teaches income taxation of trusts and estates, and co-chair, estates and trusts, of the Executive Committee of the New York State Bar Association Tax Section and he is the primary author of five major Tax Section reports and a substantial contributor to others.
Mr. Bramwell is a member of The American College of Trusts and Estates Counsel (ACTEC), and is one of the leading "thought leaders" in the country. He is an amazing and dynamic expert's expert, and earned his J.D. cum laude from Harvard University, and a Bachelor of Arts degree, cum laude with distinction in Philosophy, from Yale College in New Haven, Connecticut.
Do not miss this exciting and unique event!
***NOTE: Time is subject to change***
REGISTRATION INSTRUCTIONS:
1. First, register at: https://www.eventbrite.com/e/what-am-i-thinking-planning-topics-that-are-on-my-mind-tickets-621031510967 to reserve your ticket and to let us know your CE requirements.
NOTE: If you have not renewed for the 2022-2023 season, please purchase a non-renewed member ticket.
2. Next, please register for the Zoom Webinar at: https://us02web.zoom.us/webinar/register/WN_zF0JK5mwQrW7N5wsAFyL7Q.
3. After you RSVP for the Zoom webinar in step 2, you will be sent a reminder with instructions on how to attend the webinar on the day of the event.
Applications are pending for 2.0 continuing education credits for CFP, NJ CLE, and NJ CPE. If you wish to receive CE credits, you must provide the necessary license information, and you must attend the full course.
Related Document(s):
Related Link(s):