Heckerling 2021 Review
Date:
Wednesday, May 19, 2021
Speaker:
Glenn A Henkel, J.D., LL.M., CPA and Joy Matak, JD, LLM
Registered for this event? Login now to view additional event details.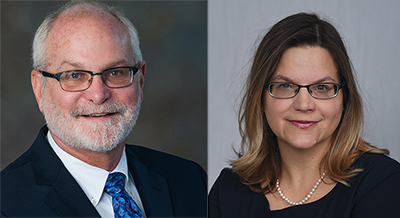 Please join the Greater New Jersey
Estate Planning Council
When: Wednesday, May 19, 2021
Time: 9:00 am to 10:45 am
This is going to be the best and most important Heckerling review you will ever attend! There is so much going on during 2021, perhaps now more than ever before, and estate, income tax, wealth management, and all planning has become even more challenging for all professionals. We've seen a global pandemic, a Presidential election, a surprise outcome in Georgia, leading to a Democrat-controlled House and Senate, and immediately we started hearing about tax law changes. This includes lower exemptions, higher tax rates, no step up in basis, and more! Now we are hopefully exiting a global pandemic, we are seeing a raging US stock market, and we have yet to see how the several stimulus acts and payments will impact the US economy. For these reasons and more, planning for our clients has become even more complicated and challenging! Regardless of your role or profession, if you work with clients, it is now more critical than ever before for you to be aware of all of the potential planning opportunities, strategies, and techniques available to you and your clients.
The Heckerling Institute will have the best of the best in our profession, and we are very proud and excited to have two of them – Joy Matak, JD, LLM, and Glenn A Henkel, J.D., LL.M., CPA – giving us a review of the 2021 Heckerling Institute On Estate Planning. You will be getting the most current, up-to-date, and best information available to help you and your clients!
Joy Matak, JD, LLM is a Partner at Sax LLP and is Head of the firm's Trust and Estate Practice. She has more than 20 years of diversified experience as a wealth transfer strategist with an extensive background in recommending and implementing advantageous tax strategies for multi-generational wealth families, owners of closely-held businesses, and high-net-worth individuals including complex trust and estate planning. Joy works with and provides her clients with wealth transfer strategy planning to accomplish all of their estate and business succession goals. She also performs tax compliance including gift tax, estate tax, and income tax returns for trusts and estates as well as consulting services related to generation skipping including transfer tax planning, asset protection, life insurance structuring, and post-mortem planning.
Glenn A Henkel, J.D., LL.M., CPA, is a shareholder in the firm Kulzer & DiPadova. He is a nationally known practitioner, lecturer, and author. If you don't know him, you should recognize his name as he has presented at Heckerling numerous times. Glenn focuses on sophisticated tax, estate, and wealth transfer planning and strategies, and his particular areas of expertise include complex estate planning, tax-exempt organizations and Probate, Trust and Estate Law. Glen is the co-author (with Steven K. Mignogna and Gerard G. Brew) of the "New Jersey Estate Planning Manual: Theory, Practice & Forms." He was also one of the key principals on the NJ Bar Association committee to conform the UTC, as adopted by the Uniform Law Commission to New Jersey law. He is a Fellow of the American College of Trust and Estate Counsel (ACTEC), and is a Past Chair of the Real Property, Trust and Estate Law Section and Past Chair of the Taxation Section of the New Jersey State Bar Association. In addition to being an attorney, Glenn is also a Certified Public Accountant and brings a unique and expert perspective on tax and estate planning. Glenn has been named a Super Lawyer in New Jersey from 2005- 2020 and for many years was distinguished as one of the 100 Top Super Lawyers in New Jersey, and he has also been named to the "Best Lawyers in America" from 2007- 2020. He has been designated as an Accredited Estate Planner by the National Association of Estate Planning Councils in 2006.
This Heckerling Review is going to be a "DON'T MISS EVENT!!!" Make sure you register and come to this special event and hear two of the sharpest minds in the industry give a comprehensive Heckerling review – and more importantly, hear the best ideas that came from the entire week at Heckerling!
To register for the Zoom webinar, go to https://us02web.zoom.us/webinar/register/WN_pxRQ5JzqSP-Td3zKGKL-ig
Register below to let us know your CE requirements.
Related Document(s):