Turning Losses Into Wins -- How To Succeed When Facing Tough Times, Setbacks, And Losses
Date:
Wednesday, March 24, 2021
Speaker:
Aaron Gryder, World Champion Thoroughbred Horse Racing Jockey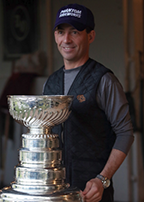 Please join the Greater New Jersey
Estate Planning Council
When: Wednesday, March 24, 2021
Time: 9:00 am to 10:45 am

Aaron Gryder is a World Champion thoroughbred horse racing jockey. Aaron recently retired from an incredible 35-year career – and a passionate and never-ending commitment – in the horse racing industry and sport.
The course of Aaron's life began growing up fifteen minutes from the world-famous Santa Anita Racetrack in Arcadia, CA. However, as a young boy, Aaron had absolutely no contact with horses other than his grandparents' occasional interest in attending the nearby races. However, from very early on in life, as early as Aaron can remember, he wanted to be a professional jockey. At the age of 13, he left home for the summer, to learn to ride horses at a horse farm, at the invitation of a widely respected jockey, Rudy Campas, who had retired from racing after a 26-year career.
While Aaron is going to tell you the fascinating story about how his career began – actually, you will hear how it almost did not begin at all – at the young age of 16, Aaron began his career as a "professional" jockey. It was not a beginning with much fanfare, glamor, or glory, as Aaron dropped out of school and went to Tijuana, Mexico at Agua Caliente Racetrack. Due to his passion, drive, and a never-ending commitment to excellence, after riding there for just two months, he was second in the leading rider standings by just one win!
Word of his early success attracted agents and trainers from Southern California racetracks. At their request, Aaron returned to the United States to ride at none other than the world-famous Santa Anita Park. His first win there came on a 20-1 long shot, a horse with no left eye named One Eyed Romeo. Just a few months later, he rode at the world-famous Hollywood Park. During their prestigious fall meet Aaron became the first and only apprentice jockey to ever win the Leading Rider title in the track's 75-year history – riding against champion jockeys like Eddie Delahoussaye, Chris McCarron, Laffit Pincay, Gary Stevens, and Willie Shoemaker – all Hall Of Fame Jockeys.
Throughout his career, Aaron has ridden numerous times in the Kentucky Derby, the Preakness, and the Belmont Stakes – horse racing's prestigious Triple Crown. He has been the leading rider and won riding titles at Hollywood Park (in California), Churchill Downs (in Kentucky), Arlington Park (in Chicago), Aqueduct Racetrack (in New York), and Golden Gate Fields (in California). Aaron won 5 consecutive leading rider riding titles at NY's Aqueduct Racetrack. Aaron has ridden in some of the world's most prestigious and richest races, all over the world – and has ridden for Kings, Queens, Sheiks, and Princes – at tracks including Royal Ascot Racecourse and York Racecourse in England, Hong Kong, Japan, Canada, St. Thomas, the US/British Virgin Islands, and in Saudi Arabia and Dubai.
A few highlights of his career – in 1998 and 1999 Aaron won the leading rider riding title at New York's Aqueduct Racetrack, with 53 wins, even though he was in accident and suffered an injury causing him to miss 6 weeks of racing. The very next year, in 1999–2000, again at Aqueduct, he repeated as leading rider and won the riding title – with 94 wins, which in and of itself is ultra-impressive, but was even more incredible is that with 94 wins, he had 32 more wins than his nearest competitor in second place! That's 33% more wins than the jockey in second place! In 2011, Aaron won the Golden Gate Fields leading rider title, breaking the 15-year consecutive streak of Hall of Fame jockey Russell Baze, who is the world's most winningest jockey as he holds the record for most wins of all-time by any jockey in the world!
Aaron also rode World Champion Well Armed to win the Dubai World Cup, which was the richest and largest purse of any horse race in the entire world! And he won by 14 lengths which is the largest margin of victory in the history of the race!!! And Aaron also won the prestigious Breeders Cup on longshot Calidoscopio, who came from dead last to win the Breeders Cup Marathon. While Aaron has won over 4000 races worldwide and that is an amazing accomplishment, it is far more than that, which Aaron will share with you, that defined his career and allowed him to become a world-class jockey and athlete. Aaron will share with you how you can turn your tough times and losses into victories and success.
As a professional athlete, he has represented and been sponsored by The Mirage Casino and Hotel, Treasure Island, the MGM Grand Las Vegas, Phantom Fireworks and Patioworld, as well as numerous others.
Outside of racing, Aaron has worked as an on-air analyst for TVG, HRTV, ESPN, Fox Sports, and NBC Sports…and as an actor, and especially for us here in New Jersey, you may recognize Aaron from his appearances on The Sopranos (as the jockey of Pie O Mine). He also appeared in the TV series Dellaventura with Danny Aiello. Aaron was also one of the six jockeys featured in Animal Planet's 2009 reality documentary TV show called "Jockeys" as well as public service announcements and commercials for various causes, initiatives, and others.
Aaron is also the co-founder of a nonprofit charity that was first started to help those affected by Hurricane Katrina in Louisiana. Since then, his organization has rebuilt many homes around the country that have been destroyed in storms, as well as a homeless shelter was created in upstate NY. In recent years they have built schools, an orphanage, playgrounds, and freshwater wells in Uganda Africa. The team has created jobs and a healthier lifestyle for the children and families that once had nothing.
Aaron has not only been an Ambassador for the sport and business of horseracing, but has also been an Ambassador for children, families, and those in need, around the world. In addition, Aaron has delivered his message of passion, drive, and commitment to excellence, worldwide.